Yeah, you can get your Jackson Jersey now.
http://store.redskins.com/cart.php?m=product_detail&p=10289
The Washington Redskins and WR DeSean Jackson have agreed to a 3 year deal as reported by several media outlets.  The terms of the deal were not disclosed.  It's been mentioned that Jackson was looking at between $9-$10 million.  Jackson was released by the Eagles on Friday and his first and only visit was with the Washington Redskins.  For the last couple of days, stories have been rampant about teams interested in Jackson and how they were watching what was going on.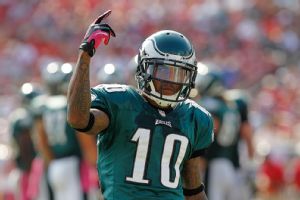 [Update] It is being reported that the 3-year is for $24 million with $16 million guaranteed. 
DeSean Jackson gives the Redskins a deep threat on every play and he also can return punts.
I'm not going to get into the off the field stuff because you can find that stuff everywhere on the interwebs since he release.
Here's to him becoming a productive Washington Redskin both on and off the field. 
Welcome to Redskins Nation
HTTR
The Redskins have chosen not to rollover $1.3m in unused cap space from 2013 according to several reports and no one knows why they wouldn't roll it over.  Did the front office have a brain fart?  That's an additional $1.3m to use and they chose not to do it?  Someone from the front office needs to explain why they chose not to roll it over.
The Redskins cut DE Adam Carriker and Punter Sav Rocca today.  These cuts should save the Redskins a little over $3 million.  It's possible the team could re-sign Carriker for cheaper but we'll have to wait and see on that.
Well, there goes a 3rd of the cap space.  The Redskins applied the franchise tag to LB Brian Orakpo today guaranteeing him a one year salary of $11.45 million (all of it counts towards this year's salary cap).  There are a lot of fans who believe he isn't worth that much and some even feel he isn't worth $8 million a season.  We can only hope this was done to give them time to work out a long-term, cap-friendly contract.
(Image from Washington Post)
The Redskins have about $18 million in cap space remaining after using the franchise tag.  They can create more space buy releasing players and reworking contracts but they must remember to manage the cap to prevent from falling back into cap hell.
I believe this was done and eventually a long-term deal will result from it.  Yeah, I know.  Wishful Thinking.
HTTR !!!