Redskins Agree With DeSean Jackson
The Washington Redskins and WR DeSean Jackson have agreed to a 3 year deal as reported by several media outlets.  The terms of the deal were not disclosed.  It's been mentioned that Jackson was looking at between $9-$10 million.  Jackson was released by the Eagles on Friday and his first and only visit was with the Washington Redskins.  For the last couple of days, stories have been rampant about teams interested in Jackson and how they were watching what was going on.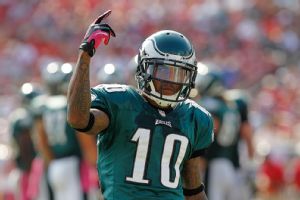 [Update] It is being reported that the 3-year is for $24 million with $16 million guaranteed. 
DeSean Jackson gives the Redskins a deep threat on every play and he also can return punts.
I'm not going to get into the off the field stuff because you can find that stuff everywhere on the interwebs since he release.
Here's to him becoming a productive Washington Redskin both on and off the field. 
Welcome to Redskins Nation
HTTR