Offensive tackle Morgan Moses from Virginia
The Redskins finally got on the clock tonight with the 34th pick.  They traded that pick to the Dallas Cowboys and received the 47th and 78th picks.  With the 47th pick the Redskins selected LB Trent Murphy from Stanford University.  This pick comes across as the eventual replacement for LB Brian Orakpo.  The question I have is will he get any playing time this year or did we use our 2nd round pick on someone who will sit on the bench?  Oh well, let's see what they do with the rest of the picks
Here is another video
One of our members (skinsfan36) have created three draft scenarios.  Scenario #1 has the team staying with each pick.  Scenario #2 has the team trading their 2nd round (#34) pick, and Scenario #3 involves Kirk Cousins.  Below are his draft scenarios:
Scenario 1: The Redskins stay at each pick and do not make any trades.
2nd (34)–OT Morgan Moses, UVA. The Redskins still want to upgrade the o-line and this is especially true at right tackle. Pauline just a few days ago said, "There is no way Moses gets past the Redskins at 34." Moses plays a little high at times but this can be corrected, plus he will be on the right side as opposed to the left.
3rd (66)–OLB Demarcus Lawrence, Boise ST. Lawrence is a polished prospect who can provide pressure from many different places. He can play OLB or rush for inside like Lawrence Timmons. On film it looks like if he hit the weight room then the sky is the limit.
4th (102)—S Ahmad Dixon, Baylor. Dixon is now a household name to anyone who has ever watched a Baylor game since he hits a ton and sometimes too high. However, at the same time he has good range and the Skins could interchange him and Thomas when they become the starters in either late 2014 or 2015.
5th (142)–RB Deanthony Thomas, Oregon. Gruden wants a back with hands that can make plays. Thomas is great with the ball in his hands and will also help in return game when needed. Another weapon for RG3.
6th (178)–OG/OC Gabe Ikard, Oklahoma. Ikard is raw but has a lot of tools to work with. He could surprise and win a job sooner than later at right guard or center.
7th (217)–TE Colt Lyerla, Oregon. This is the huge risk/reward pick. Lyerla is a headcase but he is talented and the risk is small in the 7th round.
Priority free agent–OT Matt Hall (Belhaven), S Nickoe Whitley (Miss ST), ILB Stephon Robertson (JMU)

Read the rest of this entry »
Yeah, you can get your Jackson Jersey now.
http://store.redskins.com/cart.php?m=product_detail&p=10289
The Washington Redskins and WR DeSean Jackson have agreed to a 3 year deal as reported by several media outlets.  The terms of the deal were not disclosed.  It's been mentioned that Jackson was looking at between $9-$10 million.  Jackson was released by the Eagles on Friday and his first and only visit was with the Washington Redskins.  For the last couple of days, stories have been rampant about teams interested in Jackson and how they were watching what was going on.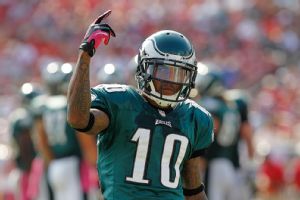 [Update] It is being reported that the 3-year is for $24 million with $16 million guaranteed. 
DeSean Jackson gives the Redskins a deep threat on every play and he also can return punts.
I'm not going to get into the off the field stuff because you can find that stuff everywhere on the interwebs since he release.
Here's to him becoming a productive Washington Redskin both on and off the field. 
Welcome to Redskins Nation
HTTR